SIA Approved Security Guards, Officers & Services In Hampshire, Cornwall, Dorset & Devon
We offer a bespoke range of security services to meet our customers requirements and deliver an exceptional standard of tailored security services.
Our SIA Licensed uniformed Security Officers are trained to fully protect your premises in a diligent manner and are able to undertake a comprehensive range of duties including Access Control, Patrols, Health and Safety functions, Weighbridge operations, Reception duties, CCTV Monitoring and staff searches.
Major Projects and the Construction Industry
Kestrel Guards Limited has a long established reputation for providing the highest level of professional security to the construction industry, in particular the building of roads and has the skills and resources necessary to undertake most major projects.
Kestrel Guards has developed expertise in the field of campus security with its many diverse needs and requirements and today the Company provides security to many of the South's colleges and schools.
Since it has been a Department of Health directive for all Health Authorities to develop a security strategy, Kestrel Guards has provided security officers with the commensurate skills, including management of aggression and the de-escalation of violence, to a number of major hospitals.
Kestrel Guards has its own 24 hour Control and Communication Centre which is constructed and inspected to the specification of British Standard 7499 and staffed by our own trained experienced security personnel. It is equipped with a Tagtronic Guard Monitoring system, Digital Voice Recording for all calls and GPS Tracker system linked in real time to all company vehicles. The Control Centre directs, monitors and supervises every aspect of the Company's operation round-the-clock, receiving and processing information, assessing situations and maintaining communication with emergency services, client contacts, mobile supervisors and patrols and security personnel on site.
We can unlock and lock your premises at the time you require. Our SIA licensed Security Officers are trained to secure your premises at the end of your working day or unlock them at the commencement of it.
Mobile Patrols are a very cost effective form of security. Security officers driving one of our fleet of GPS Tracker linked, liveried company vehicles in radio contact with our control room, make an agreed number of visits at irregular intervals to your premises to ensure they are secure and at the same time may check on utilities, equipment or plant (eg heating, lighting, water) and can also check on the correct functioning of any installations if required. All vehicles are fitted with GPS Trackers which stream live location and status information to our control room and the patrols are monitored by a patrol monitoring system in order to provide management information when required.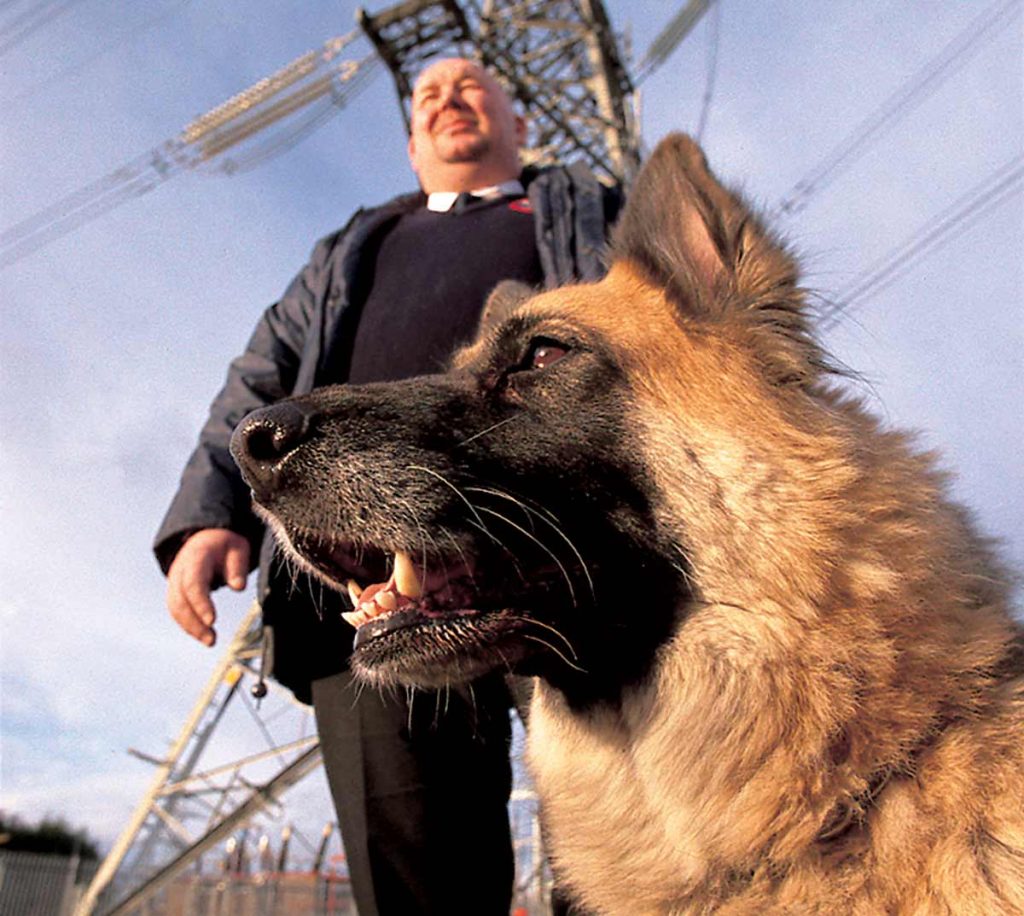 Trained guard dogs and handlers, each registered individually with the National Association of Security Dog Users (NASDU), observing the Home Office Code of Practice are supplied in accordance with the Guard Dog Act 1975, to provide a highly skilled addition to the security of certain high risk and vulnerable sites.
All security personnel are screened to British Standard 7858 – for the Screening and Vetting of personnel employed in the manned guarding security industry. Screening is conducted by a NSI trained vetting officer and SITO trained vetting controller. The personnel files, which are inspected by the National Security Inspectorate (NSI), cover every period of past employment, personal references, periods of unemployment, proof of identity documentation, credit checks, training records and evidence of former military service, where applicable.
We can provide documented Property Inspections to comply with your insurance company requirements and these inspections can be complimented by Mobile Patrols or our Temporary Alarm System to reduce the risk of damage, illegal occupation and theft.